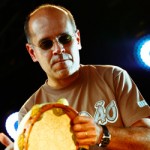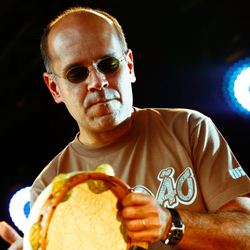 Marcos Suzano
MARCOS SUZANO, musician, percussionist, was born in Rio de Janeiro on the 14th of August, 1963.

He graduated in Economics at UFRJ (1984).

Professional musician since 1986, he has participated on several important groups on the national and international music scenario, such as Sting , Aquarela Carioca, Nó em Pingo D`Agua, Zizi Possi, Gilberto Gil, Joan Baez, among others.Since then he has become one of the top call musicians in Brazil either for shows or  studio recordings.

His new ideas on brazilian percussion are disseminated in festivals, lessons and workshops all over the world, including Japan, USA, Holland, France, Denmark, Belgium, Italy, and also in lots of brazilian cities. He has a video lesson released in Japan and 2 DVDs released in 2008 in Germany and in all Europe, where he shows his very skilled techniques on the "pandeiro".

His solos albums are "Sambatown" (1996/1997), which was awarded  – Revelation of the Year, released by MP, "Flash" (2000) released by Trama and "Atarashii" (2008), independent release.

Others:

With Brasilian Composer/ Singer Lenine: album "Olho de Peixe (1993)
With "Aquarela Carioca: 5 Albums
With "Nó em pingo d"agua": 1 Album
With Maestro Paulo Moura and Ociladocê Group: 1 Album
With Japanese Drummer Namazawa Takahashi: 1 Album (released only in Japan)
With singer and guitar player Vitor Ramil: "Satolep Sambatown"
With 3-63 Trio : 1 Album
With Flute player Andrea Ernest Dias and Pianist Paulo Braga: 1 Album "Muacy"

He acted as musical director in the 10 recent editions of PERCPAN FESTIVAL: A World Panorana of Global Percussion.
Instruments
Percussion
Continue Reading