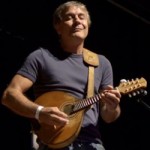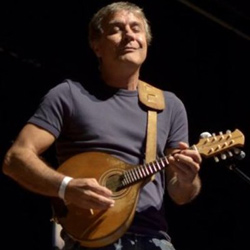 Sérgio Chiavazzoli
Sérgio Chiavazzoli
Sergio Chiavazzoli started playing the acoustic guitar at the age of 4.
After studying Classic Guitar and Flamenco with Paulo Roberto Leitão, he started teaching music.

He carried on with his harmony and improvisation studies with Sergio Benevenuto. At age of 20 he founded his first " Electric Trio" in Niteroi (Rio de Janeiro).

He was interested also in other strings instruments such as Acoustic Guitar, 12 Strings Viola, 10 Strings Viola, MIDI Guitar, Cavaquinho, Mandolin, Banjo, "Guitarra Baiana" and electric guitar. He had become a multi instrumentalist musician.

In 1989 he played on tours with  Ze Alexandre and  Oswaldo Montenegro.

In 1997  he started playing on Gilberto Gil's Tour (Trio Eletronico) where he  played with great artists such as: Caetano Veloso, Djavan, Milton Nascimento, Gal Costa, Baby Consuelo, Pepeu Gomes, Elba Ramalho, Lulu Santos, Ivete Sangalo, Daniela Mercury, Dominguinhos, Carlinhos Brown and Margareth Menezes.

In 1998 he went to Africa, Europe and Asia and he played with  Paralamas do Sucesso, Cheb Mamy, Yousson`Dour and Veronica Sabino.

Other artists he has played with:
MPB  4, Quarteto em Cy, Ana Carolina, Alejandro Sanz, Peter Gabriel, Maria Bethania, Roberto Carlos.

On Globo Television: Paulo Coelho`s book / album,  Xuxa, Milton Nascimento, Belchior, Ze Augusto, Akundum, Adriana Maciel, Vanessa Rangel, Morais Moreira, MPB 4, Quarteto em Cy, Paulo Ricardo, Fagner and Amelinha.

In 2001 he recorded "Milton and Gil"(with Milton Nascimento and Gilberto Gil) and he was awarded a prize by Itau Cultural Project with his own album "Armando Todas".
In 2002, he became musical director of Gilberto Gil's Tour "Expresso 222"  and played in Europe, USA, Asia and Oceania.
He  played with Gilberto Gil at ONU Concert.

In 2008 he graduated in MusicTherapy and created the "Instrumental Music "Gomanchi Group" with Arthur Maia, Carlos Malta, Claudio Andrade and Jorginho Gomes.

In 2010 he created "Mafua Instrumental Power Trio" with Fabio Lessa and Flavio Santos.
He wrote arrangements for Gilberto Gil's album "Fé na Festa"and he is currently  studying Music Education.
Instruments
Guitar
Mandolin
Cavaquinho